We recently received this feedback from Jasper's owner on his experience with KalmAid. A doggie story with a human touch…..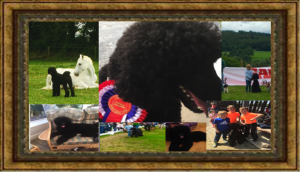 Dear Nutriscience
We just wanted to let you know about our dog Jasper. Jasper came from Poodle Rescue UK three years ago when he was only nine months old. He has excellent breeding but, it appears the reason he found himself in Poodle Rescue was that his owners, who had four very young children, were unable to manage him.  He then went on to a Foster Home in Manchester and eventually found his forever home with us.  To say he was a handful is putting it mildly but we have found a dramatic change in him since we put him on your product Kalmaid.  So much so it was possible for a 7 year old girl to take him in a Dog Show at a recent international three day event horse trials and he duly secured two seconds, one first and Reserve Champion!
We are delighted to hear Jasper's story, who judging by his pictures is a popular character with lots of friends, big and small. Certainly judging from his horsey friend relaxing in the field Jasper is a calming influence and he definitely likes his comforts around the house. Jasper definitely has found his forever home. Lucky dog!!