ArthriAid™ Equine Mobility Supplement
ArthriAid supplies the necessary building blocks to aid your horse's own natural manufacture of cartilage
---
---
| Price: €71.98 – €293.25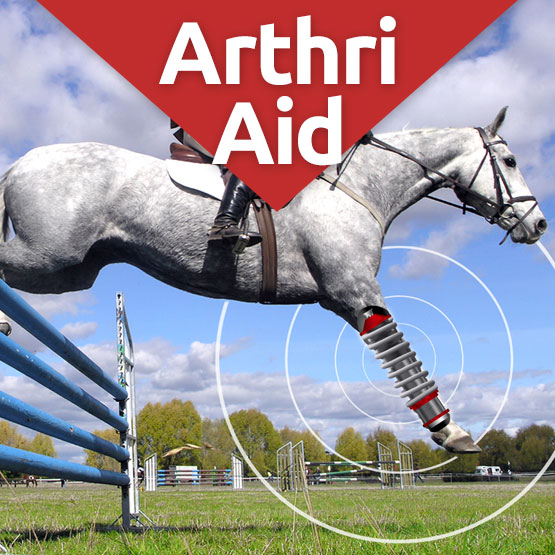 Product Testimonials
"I have used another brand for years, and I tried "Arthri Aid", and I have to say the horse has improved fairly noticeably from same dose of the other brand! I am now on my 2nd tub and still commenting on how much better moving and so much more active through the hocks the horse is!! Definitely recommend.i have competed Internationally so horses suppleness is of great importance!" - jollyjumper
"Bought this for my horse in place of his regular supplement. Good value for size of tub and it lasted well. I used this throughout the summer so although he seemed to be moving fairly well I might try this in the winter." - HM

Additional Product Info
ArthriAid™ Equine Mobility Supplement from NutriScience lubricates and promotes regeneration of the important shock absorbing tissues of your horses joints. Available in high-strength liquid and powder with a tasty apple flavour, ArthriAid™ can be easily incorporated into your horse's feeding regime.
A joint is where two bones meet. It is surrounded by cartilage and filled with "joint fluid" (synovial fluid). Both cartilage and fluid combine to give the joint its flexibility and shock absorbing qualities. Over time, joints can lose some of their quality resulting in reduced movement and swelling.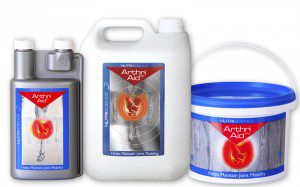 In the normal day to day life of a horse the joint cartilage is continually being broken down and replacement cartilage is being manufactured. However this balance can be upset due to increased training, trauma, competition or simply old age.
Many horses need assistance with the regeneration of cartilage and reduced risk from further deterioration. ArthriAid™ can aid the body's natural repair of joint damage. It can help build new cartilage naturally and aid increased and maintained flexibility.
ArthriAid™ is a cost-effective solution to promote long-term joint health in horses and ponies.
Some symptoms can include
Reduced mobility
Joint stiffness
Overall stiffness
Crude Carbohydrate                33%
Crude Protein                           7%
Crude Oils & Fats               <0.5%
Crude Fibre                         0.78%
Crude Ash                                1.2%
Moisture                                   58%
Recommendations (for an adult horse 500kg)
Liquid 
Initial Administration :                Give 25mls twice daily
Powder
Initial Administration :                Give 2 level scoops (20gm) daily
Maintenance : After approx. 20 days volume can be reduced to a maintenance level (usually half initial intake).
Horses should be kept on ArthriAid™ for a minimum of 6 weeks.
ArthriAid is available in a 1 & 5 litre caramel flavoured liquid with unit dose measures.
ArthriAid is also available in a 1.2Kg powder a measuring scoop