Greyhound NutriLyte
NutriScience – leading the field for effective electrolyte replacement in greyhounds
---
---
Greyhound NutriLyte | Price: €12.15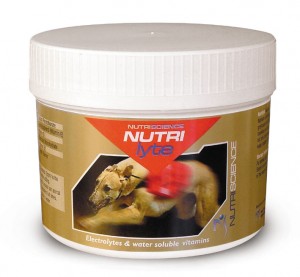 Product Testimonials

Additional Product Info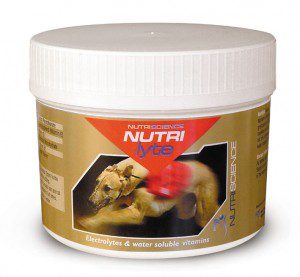 Greyhound NutriLyte is an advanced second-generation electrolyte designed to meet the needs of the racing greyhound or performance dog. Training, travelling and panting deplete electrolytyes, carbohydrates and B vitamins which will, in turn, reduce performance. Nutrilyte replenishes these electrolytes and provide vital water-soluble vitamins and easily absorbable carbohydrates.
Symptoms of dehydration include:
Excessive skin tenting/decreased skin turgor (the skin stays "stuck together" for a prolonged period of time after being gently lifted and pressed between two fingers. Normal skin pliability depends in large part upon hydration status.
Loose skin (loss of elasticity)
Wrinkled skin (due to dryness)
Vomiting
Diarrhea
Lack of appetite
Weight loss
Excessive urine production (polyuria)
Listlessness
Weakness
Panting
Excessive drooling/salivation (ptyalism)
Tacky, dry gums and other mucous membranes
Elevated heart rate (tachycardia)
Weak pulse quality/strength
Prolonged capillary refill time (this is a simple test done by pressing on the dog's gums with a fingertip and assessing how long it takes for the spot to return to its normal pink color; the normal canine capillary refill time is less than 2 minutes.)
Sunken eyes (enophthalmos; usually bilaterally symmetrical/affecting both eyes equally)
Collapse
Sodium Chloride, Sodium Citrate, Potassium Citrate, Monopotassium phosphate, Vitamin BI, Vitamin B2, Vitamin B6, Vitamin E, Vitamin C, Calcium Pantothenate, Dextrose monohydrate
Add 4 scoops to the feed or add to 1 litre of water and mix while adding.
The maximum recommended amount is 4 scoops daily over a period of 1-3 days.
Water should be freely available at all times.
Greyhound NutriLyte comes in a 400g tub.