KalmAid Dog Calming Supplement
A calm dog makes a happy owner
---
---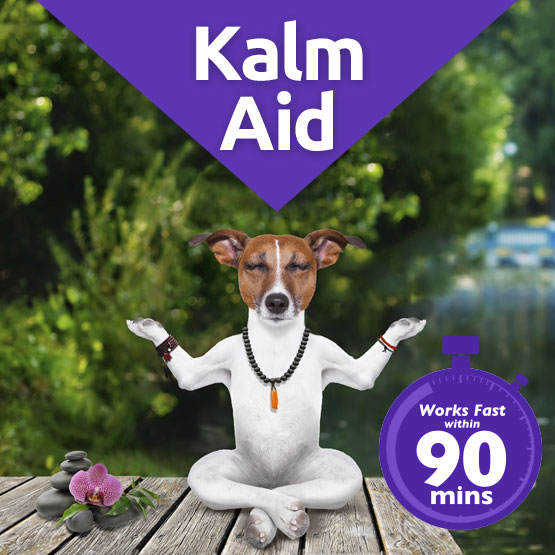 Product Testimonials
"My dog is a rescue dog and is constantly anxious but Kalm Aid helps to take the edge off her anxiety and she now enjoys going for walks, going out into the garden etc.
Highly recommended." - H
"I have used this for my very nervious dog she is 13yrs old and had a bad start to her life, I got her at 3mths old. Over the years I've tried lots of things to help her none of them were any good, they just made her like a zombie. I found KalmAid and thought I would try it. I'm so happy I bought this it has made such a difference to my girl. She has no side effects with KalmAid . At first I gave it to her every other day she improved so much I only give it to her for fireworks and stressfull times.
Have no fear about KalmAid it is perfectly safe I know because I've been using it for a long time. My girl has skin problems when she is stressed not any more thanks to KalmAid I am never without it and as long as it is available I will keep buying it. If you are reading this you are likely to have tried other meds for your pet you should try KalmAid you will not be disappointed. I call it my wonder drug." - CY
"As a final year veterinary student , I had been taught about nutraceutical products in order to manage stress in animals. My dog suffers with very bad anxiety-related aggression, and although it doesn't completely soothe her it certainly takes the edge off her and increases her stress threshold.
I use this daily at a half dose and she licks it off a spoon or I put it in her food. The main thing with this product is to understand that this is not a magic potion! It needs to be used in combination with environmental and management changes in order to reduce the anxiety with certain situations.
I would certainly reccommend this product and expect to see results in the first month. PLEASE GIVE THIS PRODUCT TIME TO WORK, it takes a while for the concentrations of L-Tryptophan to build up serotonin in your pet, which is why you wont see immediate results. I find it better to try to use a couple of days before an expected event, such as family coming to stay or bonfire night." - cornwall

Additional Product Info
KalmAid is for nervous or anxious dogs. Stress-related situations like separation anxiety, strange surroundings (kennels or minders) or loud events like fireworks can affect a dog's behaviour and quality of life.
KalmAid contains L- Tryptophan and L-theanine, essential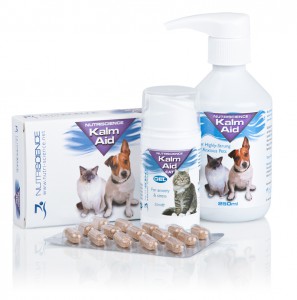 amino acids which stimulate the production of serotonin. Serotonin plays an important role in maintaining calm and relaxation in animals. KalmAid also contains Thiamine (Vitamin B1). Deficiency in this crucial vitamin has been associated with nervous disorders.
NutriScience's unique KalmAid formula can aid the treatment of anxiety and nervousness dogs and puppies, helping to make dog parenting a more rewarding experience.
KalmAid Dog Calming Supplement can also be used to manage long term behavioural problems.

Your questions answered
How soon should an improvement be seen?
For immediate results give the recommended amount at least one hour before the dog is exposed to a stressful situation.
Can KalmAid be given with other feeds or supplements?
Yes. KalmAid can be given in addition to any other supplements.
KalmAid Calming Supplement is recommended for dogs and puppies who may be affected by:
Separation anxiety
Strange surroundings – e.g. kennels or minders
Weaning – when puppies are separated from their mothers
Environmental stress – e.g. lightning, fireworks
Travelling
Grooming
Behavioural problems
Unwanted or unruly behaviour (longer term management)
Visits to the vet
 Ingredients per 5ml of Liquid:     L-Tryptophan (250mg), Vitamin B6 (50mcg), L-theanine (150mcg),Vitamin B1 (Thiamine) (0.6mg), Vitamin B3 (Niacin) (3mg),
Typical Analysis %
Crude Carbohydrate                  38.3%
Crude Protein                             3.7%
Crude Oils & Fats                     <0.5%
Crude Fibre                               0.5%
Crude Ash                                <0.5%
Moisture                                     58%
Calorific Value (Kcal/100gm)     168
Liquid
Pet Weight :      Amount to Give
< 5kg                5ml daily
5 – 10 kg          10ml daily
10 – 20 kg        15ml daily
20 – 30kg        20ml daily
Over 30kg        25ml daily
Tablets
Per Weight:    No. of tablets:
< 5kg                1/2 Tablet
5 – 10kg           1 Tablet
10 – 20kg         1 1/2 Tablets
20 – 30kg          2 Tablets
Over 30kg's       2 1/2 Tablets
For short term use, give 1-2 hours before 'anxious event'. Intake can be increased if required for individual cases
For an individual event likely to cause fear or anxiety give a single double amount appropriate for animals weight, preferably one hour before required effect. This can be repeated if necessary up to 3 times daily
For long term management of behavioral problems, give half the above amount daily. Reduce the amount given with improvement and repeat for flare up
As all pets are individuals, the requirements may vary.  A trial may be necessary to determine the current amount for an individual animal.
250ml caramel flavoured liquid. Also available in beef flavoured tablets (Pack Size 30) and 50ml salmon flavoured cat gel.