MuscleAid Horse Supplement
MuscleAid is scientifically-formulated to help maximise equine performance
---
---
MuscleAid Horse Supplement | Price: €80.00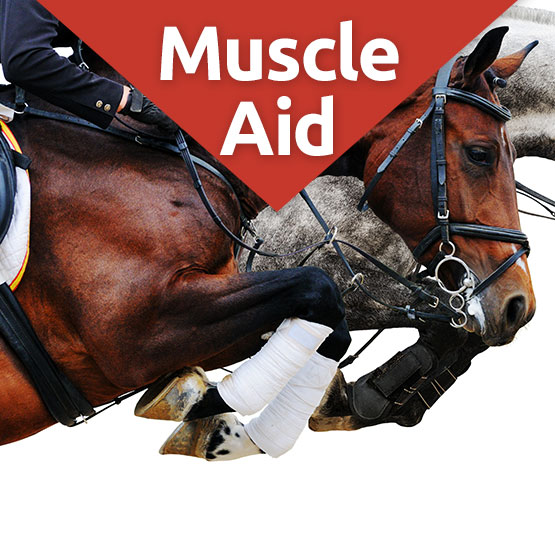 Product Testimonials

Additional Product Info
MuscleAid is a nutritional supplement designed to:
improve performance in the equine athlete
increase power and strength by increasing muscle
speed up recovery after exercise
increase a yearling's muscle mass during pre-sales conditioning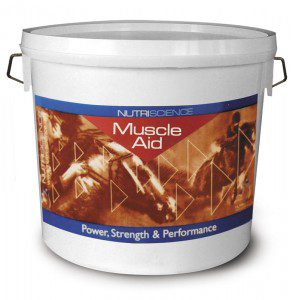 It is an unavoidable fact that intensive exercising of horses and ponies creates muscle breakdown. The more severe the muscle breakdown the longer it takes to recover and participate in further exercise, and as a consequence the muscles take longer to start developing again. The subsequent stiffness can also lead to impaired performance.
MuscleAid is a scientifically-formulated nutritional supplement designed by NutriScience to help maximise equine performance, build muscle, increase stamina, decrease body fat and reduce recovery time.
Consistent muscle growth increases the efficiency of the animal and ensures the optimum usage of energy.
How MuscleAid Works
MuscleAid can help trained muscles become better and more efficient.
MuscleAid can have a positive effect on the production of red blood cells.
MuscleAid can promote stamina by ensuring the correct balance between the two prime energy sources of carbohydrates and fat.
MuscleAid contains a derivative of leucine called beta-hydroxy-beta-methylbutyrate (HMβ). Studies show that a supplemented diet can maximise performance by increasing aerobic capacity in equine athletes.
Conditioning and training are designed to increase the horse's muscular development and endurance. However, intense exercise can also cause muscle damage. MuscleAid can help shorten recovery periods after exercise by preventing exercise-induced proteolysis (muscle damage). This can help to allow for more intense training and more frequent competition.
MuscleAid can help increase muscle mass in horses, particularly if used during training, leading to significant improvement in strength.
MuscleAid Horse Supplement is recommended for:
Muscle loss
Low energy
Effects of intensive training
Speed training effects
MuscleAid Horse Supplement contains:
HMB (Beta Hydroxyl)
Beta Methyl Butyrate
L-Carnitine
L-Tartrate
Selenium
Vitamin E
Dextrose
Apple Flavour
Typical analysis%:
Crude Carbohydrate:         80%
Crude Protein:                    1.5%
Crude Oil & Fats:                2%
Crude Fibre                        0.5%
Crude Ash:                          8%
Moisture:                             8%
Adult horses and ponies (500kg): 50g (one heaped scoop) daily, particularly when in heavy training and competition, starting 15 days prior to event.
Yearlings:  30g (one level scoop) daily for one month before sales.
MuscleAid Horse Supplement comes in a 1.5kg tub.