SeniorAid Ageing Supplement for Cats
---
---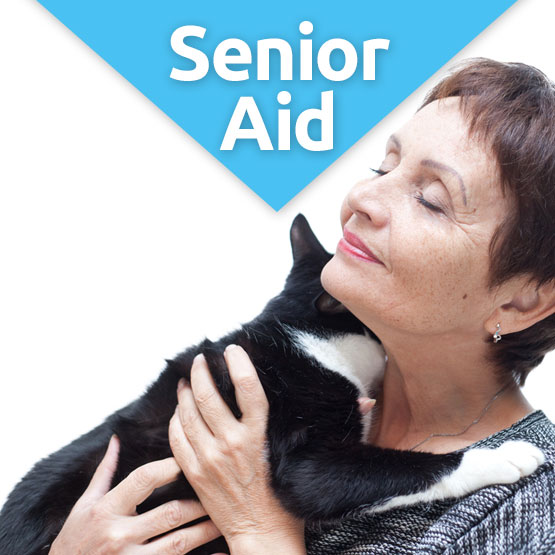 Product Testimonials

Additional Product Info
SeniorAid Ageing Supplement contains the essential daily nutrients plus supplemental nutrients which older cats either have an increased require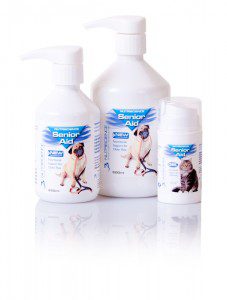 ment for or do not produce sufficiently for themselves. As cats get older the quality of their dietary intake may vary for several reasons, among them illness and reduced appetite
The first sign of an ageing cat is a general decrease in activity, including a tendency to sleep longer and more soundly, a waning of enthusiasm for games of catch and a loss of interest in it's surroundings. Skin and coat change too, as the skin loses pliability and the capacity of the oil-producing sebaceous glands diminishes. As ageing advances, heart, liver, and kidneys lose their efficiency and the immune system is less able to fight off attacks by bacteria and viruses. Old age also has a significant effect on brain function, which can be boosted with adequate nutritional intake.
The Benefits of SeniorAid for Cats
SeniorAid has been scientifically formulated by NutriScience and it's key ingredients play their own individual roles in helping to slow the ageing process:
• Phosphatidyl-serine has been shown to improve cognitive deficits, memory, orientation, learning and social behaviour in ageing cats. This is key to protect brain function from age related degeneration.
• L-Carnitine is necessary for the function of cardiac and skeletal muscles
• BetaGlucan – enhances the immune system
• L-Taurine is included in the Senior Aid Cat Gel, as it is known to affect the health of cats when they are lacking taurine in their diet. L-Taurine, an amino acid essential for retinal function and also has a role to play in the management of cardiac problems to older pets.
• Glucosamine is critical for the production of many tissue structures, particularly cartilage, tendons and ligaments and is fundamental to the  maintenance of joint mobility
• Arginine is an essential amino acid, necessary for renal function in cats
• Omega 3 and L-Arginine inhibit muscle protein degeneration associated with cachexia and cancer
• Vitamin E, Vitamin C and Betacarotene are antioxidants which help prevent damage to cell membranes, and are key ingredients in diets designed for cognitive dysfunction in small animals
Symptoms can include:
Reduced energy
Decreased appetite
Sleeping longer and more frequently
Deterioration in skin and coat condition
SeniorAid Cat Gel Ingredients (per 10ml):
| | |
| --- | --- |
| Glucosamine HCL | 300mg |
| Omega 3 Fatty Acids | 125mg |
| Chondroitin Sulphate | 120mg |
| Phosphatidylserine | 100mg |
| Cysteine | 200mg |
| Beta Glucan | 10mg |
| Thiamine HCL | 0.4mg |
| Riboflavin | 1.44mg |
| Niacin (Niacinamide) | 5.6mg |
| L-Carnitine L-Tartrate | 100mg |
| L-Taurine | 28mg |
| Dl-Methionine | 125mg |
| L-Arginine | 150mg |
| Vitamin B 12 (Cyanocobalmin) | 0.032mg |
| Vitamin B6 | 0.4mg |
| Vitamin E | 28.8iu |
Give 2ml (1pump) daily. Apply to the back of the cats paw for the cat to lick off or mix with regular food
SeniorAid is available in a 50ml salmon flavoured gel for cats
Also available in 250ml and 500ml caramel flavour liquid bottles with 2.5ml pump dispensers.