Ultra E Greyhound Muscle Supplement
Ensures optimum muscle health and nutrition
---
---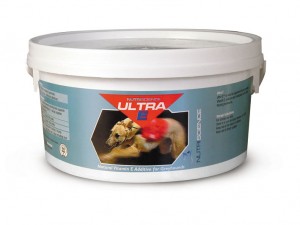 Product Testimonials

Additional Product Info
Peak athletic performance requires strong, healthy muscles. Ultra E provides a blend of Vitamin E and organic Selenium to ensure optimum muscle health and nutrition. Best used in conjunction with PerformAid.
Selenium and Vitamin E are the two major anti-oxidants which neutralise toxic free radicals.  They work together to quickly neutralise these toxic by-products produced during the oxidation process.  Selenium exerts its effect inside the muscle cells, while Vitamin E protects the cell membranes.  Performance greyhounds require greater amounts of anti-oxidant nutrients in order to combat the very high level of toxic free radicals produced during intense exercise. Ultra E greyhound Muscle Supplement can compensate for anti-oxidants that are not usually provided by feed alone.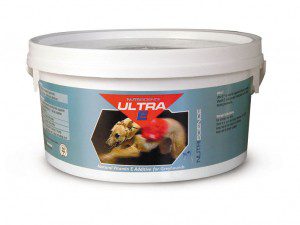 muscle soreness
'tying - up'
stiffness
loss of muscle strength and stamina
Ultra E is recommended for greyhound with challenging training and performance regimes.
1 scoop supplies 200IU of Vitamin E
Ultra E should be given in morning feed
(separate from iron supplementation).
Training :          ¼ scoop (50 IU) daily
Racing :           ½ scoop (100 IU) daily
Pre-race :         Give 1 scoop daily for 2 days prior to race (including raceday)
Recommend to use in conjunction with Perform Aid Greyhound Performance Supplement
Ultra E is available in 400 gm and 1.2 kg powder packs with 2 gm scoop enclosed