Iron Boost Plus Conditioning Vitamin and Mineral Supplement
Conditioning vitamin and mineral supplement for horses and ponies
---
---
Iron Boost Plus Conditioning Vitamin and Mineral Supplement | Price: €21.28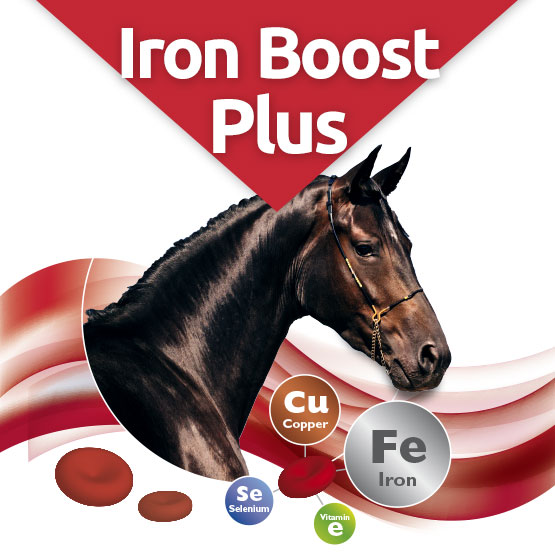 Product Testimonials

Additional Product Info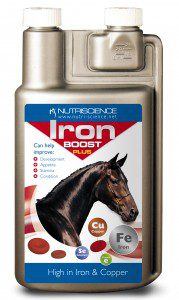 Multi-vitamin feed supplements are recommended for all types of horses and ponies. An animal may suffer from a deficit in a particular vitamin or mineral for some time without displaying any symptoms.
Iron Boost Plus Conditioning Vitamin and Mineral Supplement tops up the system with essential vitamins and minerals that may be lacking from the animals daily diet. Ireland and the UK tend to have reduced copper in the soil and this top up is particularly recommended during spring time.
Iron Boost Plus can help improve growth and development, appetite, performance and coat.
How Iron Boost Plus Works:
Copper is essential for a horse's development, especially for foals and yearlings. Anti-oxidants and selenium are particularly important in combating stress for performance animals. Iron increases the production of red blood cells and helps to develop stamina for horses and ponies in competition.
IronBoost Plus:
as a liquid supplement ensures maximum absorption
provides vitamins, minerals, trace elements and amino acids for growing youngsters
boosts performances and provides a full complement of B vitamins and iron needed for red blood synthesis
encourages appetite
supplies anti-oxidants A,D, and E, plus selenium to combat stresses of the performance athlete
Iron Boost Plus provides a horse with all it requires to attain its maximum level of health, fitness and vitality.
Iron Boost Plus is recommended for horses and ponies exhibiting:
unsatisfactory development
reduced appetite
low stamina
poor condition
Iron Boost Plus Ingredients (mg/kg):
Iron Complex                          12,000mg
Selenium                                 20mg
Copper Complex                    3,200mg
Potassium                              4,400mg
Vitamin B1 (Thiamine Hcl)      896mg
Zinc Gluconate                      6,000mg
Vitamin B2 (Riboflavin Hcl)    544mg
Iodine                                    128mg
Vitamin B6 (Pyridoxine Hcl)  192mg
Cobalt                                   40mg
Vitamin B5 (Panthotenic)       656mg
Vitamin E                                8,000mg
Vitamin B12                           40mg
Vitamin A                               800mg
Vitamin B3 (Niacin)               1,184mg
Vitamin D3                            480mg
Folic Acid                             400mg
Lysine                                   9,568mg
Manganese                          1,6224mg
Methionine                           4,000mg
Biotin                                   120mg
Choline Chloride                  8,000mg
Typical analysis %
Crude carbohydrate         21%
Crude protein                   2%
Crude Oils & Fats            0.5%
Crude Fibre                     1%
Crude Ash                       2.5%
Moisture                          73%
Feeding recommendations for Iron Boost Plus:
Foals (3 months/weaning to yearling):                               12.5ml daily
Yearlings (2 years old/older horses):
During training period and racing season:                         25ml daily
Horses on milder to moderate regimen:                            12.5ml daily
Broodmares:
Summer:                                                                             25ml daily          Winter:                     50ml daily
During the last three months of pregnancy:                       50ml daily
Stallions:              
At stud:                                                                              50ml daily
Resting:                                                                             25ml daily
Iron Boost Plus comes in a 1ltr bottle.