KalmAid Cat Calming Supplement
A calm cat makes a happy owner
---
---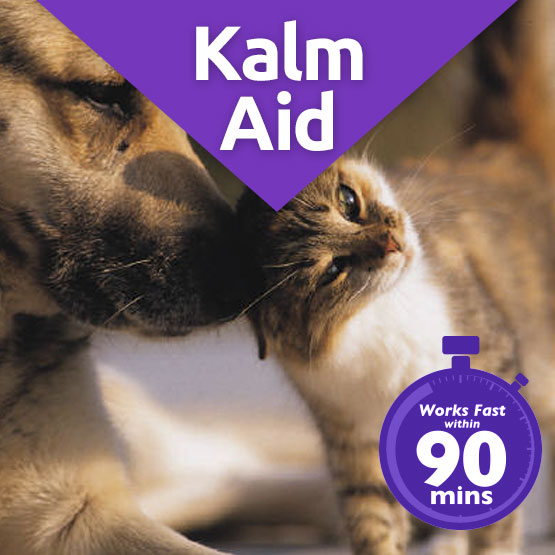 Product Testimonials
"This product is brilliant, particularly for cats who are notoriously difficult to give pills. I smear this on my 2 small kittens' front paws and they wash it off - easypeasy. One of my kittens was spooked by something and a friend lent me Kalmaid to try on him and it worked a treat, so I bought my own. I can highly recommend it before trips to the vet or before anything that might unsettle your pet." - SF
"Our cat was stressed by the arrival of our new 4 legged family member. We gave them both KalmAid for a few weeks and now they're best of pals!" - Dee
"I had to travel with my three cats in a cage in the back of my car for six hours when moving house - they were perfectly happy, and arrived unstressed thanks to KalmAid!" - Diana
"We have three cats who are a little nutty! This helped calm them down and made our life easier when our daughter came along. Good for one off occasions too." - LF
"I needed something to calm my hyperactive 1-year-old cat, who seemed to be getting more aggressive toward her peaceful sister. We tried another brand first, but the capsules were too large. The KalmAid gel was much easier to administer. From the first day of use, I could see a difference in her behavior, much calmer. She didn't freak out when she heard a loud noise. She was still playful, but without the killer instinct showing through. I believe this gel would also help for a one-time use, such as going to the vet." - Sandy
"We adopted two Siamese cats; one is so laid back, the other is totally neurotic! We bought this to see if it would have any effect on him as he would spend the night crying like a baby and the people in the flat above us could hear him.... we now get sleep and so do our neighbours!" - MNK
"It seemed to do what it says on the tin - my jumpy cat has calmed down a lot." - Lindy
"We have two cats (brother and sister). The female was very nervous and spraying around the house. Just a little squirt rubbed into the fur on her paw and she's a lot more confident (she licks her paws clean)." - Anon
"KalmAid Gel has changed my cat's life. My cat is an 8 year old Siamese rescue cat who I have owned for 2 years. When I got her I was told that she plucks her fur out and she was extremely nervous because she had been bullied by other cats (and I believe humans also!). But KalmAid, which I apply to the top of her paw every day, has turned her life around. She has finally stopped plucking her fur out and is really playful, which has never happened before. For me KalmAid Gel is nothing short of miraculous!" - Gina
"I really don't even know where to start with reviewing kalmaid, my beautiful 2yr old mid-long haired cat has recently been chewing all the fur of her back legs and stomach. She has always been shy, she hated people being in her house, she hates to go outside and she particularly hates when I leave the house.
We'll blow me down this stuff has changed her life… .over the last 3 weeks she has transformed in to a totally new cat, one I have never met before. She has had a massive increase in appetite and eats every meal and even asks for more food at times, she no longer hides at the sound of the doorbell
Thank you so much kalmaid makers for changing our lives!" - HEF

Additional Product Info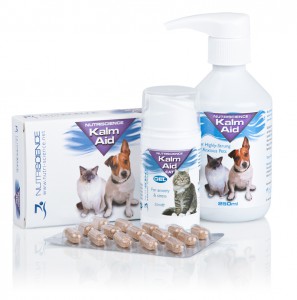 KalmAid is for nervous cats. Stress-related situations like separation anxiety or strange surroundings (cattery or minders) can affect a cat's behaviour and quality of life.
KalmAid contains L- Tryptophan and L-theanine, essential amino acids which stimulate the production of serotonin. Serotonin plays an important role in maintaining calm and relaxation in animals. KalmAid also contains Thiamine (Vitamin B1). Deficiency in this crucial vitamin has been associated with nervous disorders.
NutriScience's unique KalmAid formula can aid the treatment of anxiety and nervousness in cats and kittens, helping to make cat parenting a more rewarding experience.
KalmAid Cat Calming Supplement can also be used to manage long term behavioural problems.

Your questions answered
How long should a cat stay on KalmAid?
For stressful situations use as and when required. Refer to the recommended intake table attached to the product. For longer-term management of behavioural problems continue the lower intake dose for up to 3 months
How soon should an improvement be seen?
For immediate results give the recommended amount at least 1 hour before the cat is exposed to a stressful situation.
Can KalmAid be given with other feeds or supplements?
Yes. KalmAid can be given in addition to any other supplements.
KalmAid Cat Calming Supplement is recommended for cats and kittens who may be affected by:
Separation anxiety
Strange surroundings – e.g. cattery or minders
Weaning – when kittens are separated from their mothers
Environmental stress – e.g. lightning, fireworks
Travelling
Grooming
Behavioural problems
Unwanted or unruly behaviour (longer term management)
Visits to the vet
 Ingredients per 2ml      L-Tryptophan (100mg), Vitamin B6 (20mcg), L-Theanine (60mcg),Vitamin B1 (Thiamine) (0.24mg), Vitamin B3 (Niacin) (1.2mg),
Crude Carbohydrate                  38.3%
Crude Protein                           3.7%
Crude Oils & Fats                     <0.5%
Crude Fibre                              0.5%
Crude Ash                                <0.5%
Moisture                                   58%
Calorific Value (Kcal/100gm)     168
KalmAid Cat Calming Supplement recommended feeding:
Apply to cat's paw or add to food:
Small cat          1 pump daily
Large cat          2 pumps daily
1 Pump = 2ml
For short term use, give 1-2 hours before 'anxious event'. Intake can be increased if required for individual cases
For an individual event likely to cause fear or anxiety give a single double amount appropriate for animals weight, preferably one hour before required effect. This can be repeated if necessary up to 3 times daily
For long term management of behavioral problems, give half the above amount daily. Reduce the amount given with improvement and repeat for flare up
As all pets are individuals, the requirements may vary.  A trial may be necessary to determine the current amount for an individual animal.
KalmAid Cat Calming Supplement comes in a range of sizes and presentations to suit all cat feeding habits and personalities.
Handy 50ml gel. For application to cat's paw. Almost all cats will then lick off the gel, making for easy and stress-free feeding, especially in cats that won't tolerate tablet feeding.
250ml size caramel flavoured liquid. This can easily be mixed with your cats regular food.
Beef flavoured tablets (pack size 30. Tablets can easily be crushed with your cats regular food.