TurboLyte Gel
TurboLyte Gel – Replaces electrolytes and energy immediately after performance
---
---
TurboLyte Gel | Price: €13.86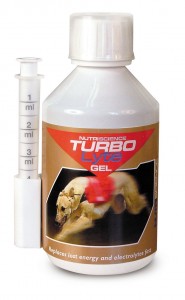 Product Testimonials

Additional Product Info
TurboLyte Gel replaces electrolytes and energy immediately after exer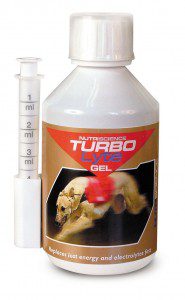 tion due to training or racing. TurboLyte matches the mineral and electrolyte profile excreted by the performance dog during exercise, training, hot conditions and stress. TurboLyte replenishes these electrolytes and supplies easily-absorbed carbohydrate. For an easy & effective way to replenish electrolytes, use TurboLyte.
TurboLyte Gel is recommended for greyhounds after:
exercise
training
racing
heat exposure
Per 12.5ml
Sodium 5.06gm, Chloride 5.06gm, Potassium 2.53gm, Calcium 0.77gm, Magnesium 0.39gm
Give 12.5 ml per day during training.
Give 12.5 ml after strenuous exercise and events.
Can be given via dosage syringe or in drinking water.
Water should be freely available at all times.
TurboLyte Gel comes in bottles of 250ml, with a syringe attached.